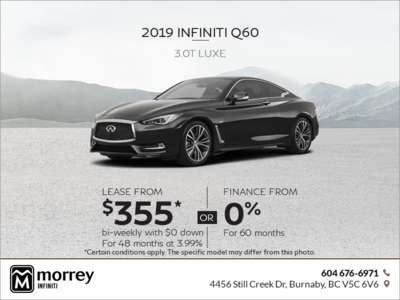 Lease the 2019 INFINITI Q60 3.0T Luxe starting from $355 bi-weekly for 48 months at 3.99% with $0 down.
Or finance for 60 months at 0%.
Certain conditions apply. This offer is valid until September 3rd, 2019.
Get Your Price Quote
Book Your Test Drive
Program Period: August 1st, 2019 to September 3rd, 2019. 2. Conquest Bonus is inclusive of all GST/HST/QST/PST as applicable. 3. This is a Manufacturer-to-Customer rebate; therefore, Dealers should include this incentive on the sales contracts after taxes have been calculated. 4. To qualify for this program, customers must finance or lease a new eligible vehicle through Infiniti Financial Services. 5. The allowance may only be applied once to each delivery. 6. This program cannot be combined with Infiniti Finance Loyalty Dollars nor other programs. 7. All units must be retailed and reported as sold from August 1st, 2019 to September 3rd, 2019. Payment will be processed the month after the booking month. 8. Eligible Vehicles: MY19 QX60 9. Eligible Sales: Sales Types "O" and "L" (Retail Only) excluding those reported as: Export, Insurance Loss, Live the Brand Lease, CSV inservice, Dealer Demo, Parts Trucks, Dealer Shuttles, CSV/Demo in excess, Fleet, Daily Rental 10. Eligible Customers: The conquest bonus is available only to eligible customers who, in the 90 days preceding the date of lease/finance of an Eligible New Vehicle, have leased, financed or owned a 2009 or newer vehicle. Offer is not transferrable or assignable, except to the current owner's spouse, common law partner or a co-owner/co-leasee of the Existing Vehicle (any of whom must reside within the same household as the intended recipient of the Offer). Individuals who purchased a vehicle under a business name can qualify for the program provided that the new deal is not a fleet deal and that the individual can provide proof showing evidence that they are the owner of the business. 11. This program is not eligible for program protection/exception. 12. The dealer is required to provide a copy of the customer acknowledgement claim form and vehicle registration/insurance, which must have been valid the last 90 days, when submitting the application to NCF. A copy of all documents should also be kept in the deal jacket for future audit purposes. 13. Dealer must claim for program at the time of submitting the application to NCF. All claims must be submitted within 60 days from the retail date. 14. This incentive cannot be applied retroactively to units retailed prior to August 1st, 2019. – no exceptions. 15. Infiniti Canada reserves the right to amend, alter, revise or terminate this program at any time, with any such amendment, alteration, revision or termination being effective as soon as Infiniti Canada provides notice by posting a bulletin on Dealer Portal. 16. Report your Sold Orders and Retail Sales (RDR) on a daily basis since these programs may end at any time if market conditions change. 17. CSV's/Loaners/Demos with 11,999 km or less must be updated in the "Manage Demo/Courtesy Units System" and reported as sold (RDR'd) to a retail customer within the program period in order to be eligible for this offer. 18. Dealers are responsible for entering accurate customer information, retail type and RDR subclass inputs when retailing and reporting the unit in the system. Incorrect retail type or RDR subclass information will result in funds being charged back at Nissan's discretion. Dealers should validate retail type and RDR subclass information on a monthly basis and immediately report inaccuracies to C&I. 19. Payments are made the month after booking. 20. Dealers must ensure that they have selected the Loyalty Cash option in Dealertrack at the time of submitting the application to NCF. No exceptions will be made after the vehicle has been retailed and the contracts signed and sent in for funding. All requests for Rebook will be subject to a penalty.